CAMPUS CRIME STOPPERS
The Manatee County Campus Crime Stoppers has been working within Manatee county schools for several years. Crime Stoppers works together with your School Resource Officers and school, providing a 24/7 phone number, web access, and P3 mobile app that students and teachers can report anonymously when they hear a crime being planned or know who the suspect of a crime is.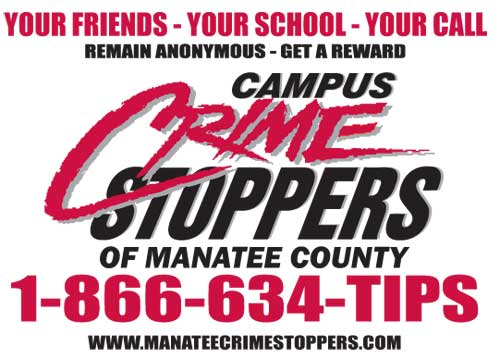 When to Call
Maybe you overhear someone bragging about having committed a crime.
Maybe you know someone who is driving a stolen car...or is hiding from the police...or is a robber or drug dealer.
Or maybe you just see something that doesn't look right. A strange car. A person acting sneaky. Someone with a gun or knife.
If you aren't sure that what you saw or heard is really a crime, call anyway. Let the police decide if it's worth investigating. It may be a piece of a clue to a big crime.
Helpful External Links: